BERSERKER GAMES:
THE
SITE FOR THE SOLITAIRE GAMER!
Thank you for visiting BERSERKER GAMES. We specialize in creating fast-playing, action-packed, adventure and historical board games specifically designed for the solitaire player.
Our games offer a lot of periodic flavor as well as certain elements of roleplaying in the sense that the Player usually takes on the role of a Hero or a Commander of forces.
Games are easy to print and assemble and include simple instructions.
All Games are listed on Boardgamegeek if you need further information on the Games.
BERSERKER GAMES

---
ANNOUNCEMENT: A WING AND A PRAYER: Bombing the Reich. I am proud to announce that Lock & Load Publishing is publishing my game (formally titled B-17 Bomber Squadron). Those interested can click on the image below to go to Lock & Load's Web Page.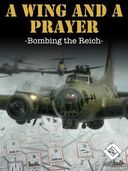 ​
________________________________________________________________________________________________________________
PURCHASING DETAILS
Currently accepting PayPal payments only.
DISCOUNT OFFERS:
BERSERKER GAMES offers the following Discounts for Purchase Amounts:
Order Total of $30-$39 = 05% Discount.
Order Total of $40-$59 = 10% Discount.
Order Total of $60-$79 = 15% Discount.
Order Total of $80-$99 = 20% Discount.
Order Total of $100 or more = 25% Discount.
DOWNLOAD INSTRUCTIONS:
Once you purchase your games, you will receive an Email with the PDF Game Files attacked. You will be able to download the PDF Files directly to your computer. If you have difficulty in retrieving your game files, please, contact us (see below) and we will send you the files via email.
ARCHIVED PRODUCTS
The Following Games are currently not listed in the Store, but, may be purchased upon request by emailing
vonrossing@bererkergames.net
and requesting a copy. Payments will be via PayPal to:
vonrossing@berserkergames.net
- HUSCARLS:
A Game of Conquest in Dark Ages Britain. ($10.00)
-
PHILIPPINES ABLAZE:
A Solitaire Game of the Philippine Insurrection (1899-1902). ($10.00)
-
GUNSHIP PLATOON:
A Solitaire Game of Helicopter Combat in Vietnam. ($10.00)
_______________________________________________________________________________________________________________________
Game Testimonials
Aces of Valor is the "Goldilocks" of World War I aviation games. It sits in that rare middle niche between simple but fun games and those of much greater complexity where one pours for hours over a massive rule book. This game provides enough complexity to produce highly interesting aviation operations along the British Front between 1916 and 1918 yet retains a level of simplicity to make it fun and easy to learn. Although it is a solitaire game, it is certainly not easy to win which makes it not only challenging but thrilling with great replayability. Two games will never be the same adding to the excitement of leading aircraft across "No Man's Land".
Dr. Terry M. Mays
Author of Night Hawks and Black Widows: 13th Air Force Night Fighters in the South and Southwest Pacific 1943-1945 and the forthcoming
Matterhorn: The Operational History of the XX Bomber Command from India and China, 1944-1945.
Contact us:
If you have any questions or concerns about our games, purchasing, or assembling, please, send an email to:
vonrossing@berserkergames.net
---
Berserker Games officially launched on 7 Feb 2014